About Us
3ET.US is owned by Super Bioscience Corp. located in Riverside County of California, USA. We are a company founded on the principle of creating a better future. This involves safer and evironment friendly solutions. There are three main aspects of this company, and they are Environment, Energy, Engineering and Techonology. We have created many innovative products based on what we believe would use the most out of each products' capabilities.
Environment
We convert waste tire to rubber material to products. For the environment side, we have created a rubber material that can be used from buildings to the sea with the same compounds. By replacing wood or steal with our product will ensure reliability and integrity of the building. We use waste tires as a renewable source. That's really an inspiring concept. One of the most efficient ways of using waste tires. As it attains two motives of waste management and sustainability at the same time.
Energy
General Manager for the Energy Section of 3ET, with the responsibility of brokering crude oil and motor fuel acquisitions on a global basis.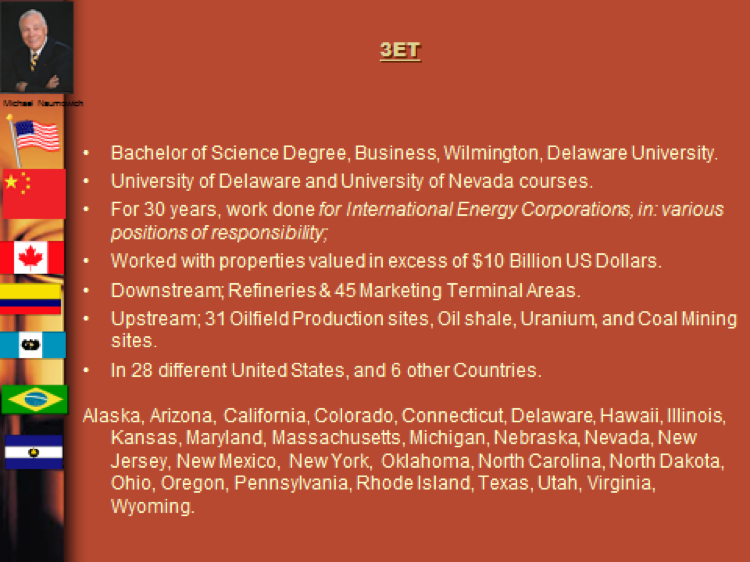 In the energy side, our E85 plus™ presents an alternative fuel for a better world. We increase efficiency in vehicles while limiting carbon emissions. All cars can use gasoline with up to 85 percent ethanol. The fuel can be used on any gasoline automobile without any modifications. It is interchangeable meaning it can be mixed with any gasoline. Using E85 plus TM is one of he easiest ways you can help reduce air pollution and save money.
Engineering & Techonology
The engineering and technology side offers a wide variety of solutions using our current systems to moving toward a better tomorrow. All of our products can be used interchangeably with the initial product it is intended to replace.